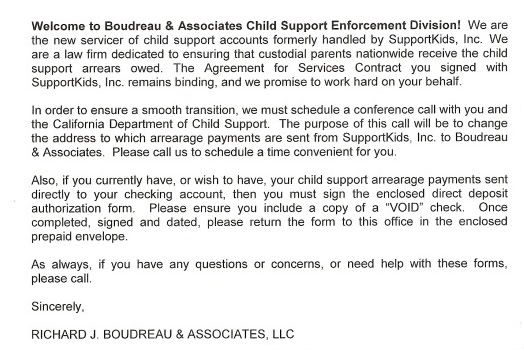 This is what I received in the mail today. I have a few things to say. If the contract is legally binding, why do they need a conference call between me and the DA's office? Wouldn't they just send a copy of the contact to the DA's office rather than have me give the OK? If it is in fact legally binding. On the copy of the direct deposit form its states something very alarming to me:
By signing below, I hereby agree to have any child support arrearage payments deposited into my bank account with said number as shown on this form/check. I authorize Richard J. Boudreau & Associates, LLC and/or its agents or ASSIGNS TO RECOVER ANY FUNDS ERRONEOUSLY DEPOSITED INTO MY ACCOUNT THROUGH A DEBIT FROM MY ACCOUNT.
So, not only would you be giving them access to put money in, but take it out. Am I correct on this one? Recover funds Erroneously Deposited into my account? They plan on making errors on the deposits before they even have the job? RJBA claims to be an attorneys office. I think they are full of crap. They did not send a new contract for me to sign. What Im getting out of this is that by signing the direct deposit slip and having a conversation via conference call with RJBA and the DA, Im basically giving them access to my money. I dont think so. By the way, what happened to the one payment they got from the DA on 5/18 before I was able to change my disbursement? Where is my money?? I dont know about you guys, but this company does not sound right. Anyone else get one of these?