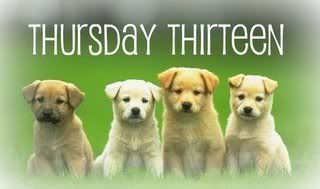 13 things I cant live without


1. My family and the ones I love.


2. Eggs...I love them fried, poached, or scrambled with a twist.


3. Music...I love my IPOD (Thank You DBF Michael) and listening to the radio.


4. Sex (hmmmm, this should probably be #2, its definitely better than eggs).
5. Survivor, Lost, or Biggest Loser. I know thats 3 but they are all on TV.


6. Air Conditioning in my house and in my car. The Summers here are HOT!
7. Mexican Food.
8. Lotion...I use it 100 times a day. Coconut Lime is my favorite.


9. My cell phone. I dont leave home without it.


10. A mirror to look at myself before I go out in public (I'd never last on Survivor).


11. Family photos of all my memories.


12. Going to the movies...I love them!!


13. Hot coffee in the morning and over ice in the afternoon (Starbucks).