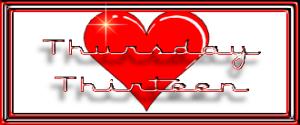 Thirteen things about my DBF Michael.

1. He is an idealist.
2. He is resourceful.
3. Sexy, very sexy...
4. Sensitive, even though he doesn't want people to know it.
5. He plays beautiful music on his guitar and piano. I love to hear him sing.
6. He has great hair.
7. He has a strange sense of humor...sometimes, I just dont get it...lol
8. Excellent Cook and Baker (especially brownies and chocolate chip cookies).
9. Extremely talented.
10. Smart...I mean, Jeopardy smart.
11. He is cute first thing in the morning when his hair is in disarray.
12. Attentive...he takes very good care of me.
13. Sweet as sugar.