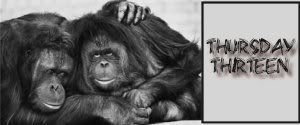 13 things people shouldn't have to deal with.



1. Someone making you feel inferior.
2. A person with a chip on their shoulder determined to ruin your day. Try smiling at them.
3. Salesmen that don't take no for an answer.
4. Bill collectors.
5. Cheaters.
6. Teenagers with foul mouths. Im sorry, thats unacceptable. Show some respect.
7. People that don't know how to control their children in public.
8. Jerks that steal your parking spot.
9. The price of gasoline going over $4.00 dollars a gallon. Come on guys, give me a break!!
10. PMS
11. Being judged for not being perfect.
12. Being hungry and homeless in our country while we are sending financial aide overseas.
13. Customer service people that cant speak English very well. Especially when they work for your bank.