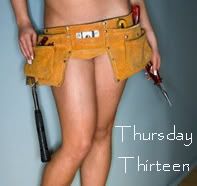 13 ways to pamper yourself
1. Get a massage.
2. Go shopping and buy something you really want (within reason).
3. Treat yourself to lunch at your favorite restaurant.
4. Get a pedicure.
5. Spend the whole day in bed reading or watching your favorite movies on T.V.
6. Have multiple orgasm....Im sure your partner wont mind, and if your alone, scream out your own name!
7. Go to the movies and see something YOU want to see.
8. Take a hot bath and put on some soft music.
9. Take a walk on a bright sunny day.
10. Did you say you love frozen yogurt?? Go to your favorite yogurt shop and get extra strawberries on the top. Dont forget the chocolate.
11. Use a sick day and do absolutely nothing.
12. Get a babysitter and go out dancing.
13. Have someone else cook for a change. Its amazing how much better it tastes!!