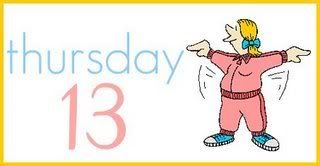 13 things that are going thru my mind right now.

1. Is my job going to get better? Its really stressing me out.
2. Why cant I be a stay at home Mom? Even though my son is almost 17 and I cant afford it...that shouldnt matter, should it?
3. Is it Friday yet?
4. I cant wait until the stuff with my fathers estate is settled.
5. I need central air. Swamp coolers suck.
6. Am I the only one that does things around here? Sometimes it feels like it.
7. I hope my son passes his second semester of summer school. What if he doesnt?
8. What bills need to be paid this week?
9. I need a vacation.
10. I totally have writers block this week. I hope it passes.
11. Where do the ants come from and what in the heck are they after in the bathroom? on my night stand? on the kitchen table? **heavy sigh**
12. How am I going to survive the next 2 weeks at work?


13. God I hate doing laundry. It never ends!!! Every day, day after day...