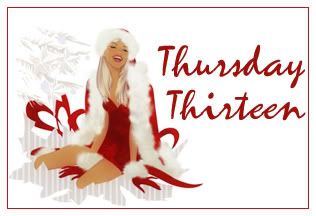 13 things I got for Christmas
1. I got to spend 11 days of quality time with my oldest son.

2. I spent 5 glorious days with the man I love.

3. I was surrounded by people who love and care about me.

4. I got a new computer chair to make my blogging world a little more comfortable.

5. A new watch from my employers at
Divorce360
(well, a gift card that I turned into a watch).


6. New windshield wiper blades from Santa (much needed).

7. Wonderful lotions and body wash to keep me smelling fresh.

8. A new coffee cup and cocoa along with gift card from Starbucks.

9. A wonderful Mothers plaque that made me cry.

10.Some gift cards to spend on ONLY me!!

11. A heated mattress pad cover for those nights when it gets in the 30's.

12. Money, which is always good.

13. An awesome Prime Rib dinner that I didnt have to cook!!