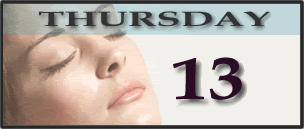 13 ways to fight the blues

1. Smile - Even if you dont feel like it. Doesnt it make you feel warm and fuzzy when someone does it to you?
2. Pay it forward - If someone does something nice for you, do something nice for someone else.
3. Listen to music - the kind that makes you want to get up and dance.
4. Watch a comedy - There is nothing better to get your mind off of whats making you sad than watching a funny movie.
5. Spend time in the garden - even if its pulling weeds. Its very therapeutic.
6. Go for a walk - get that blood pumping. It helps you feel better and relieves stress.
7. Have sex - Ya, you may not be in the mood but once you get started, its amazing how quickly that can change.
8. Read a book - There is nothing like losing yourself in a good book to take your mind off your worries.
9. Write - or, in my case, blog.
10. Call a friend - sometimes getting things off your chest is the best way to feel better.
11. Go shopping - that may not help your wallet but it will definitely change your attitude.
12. Treat yourself - go to the yogurt shop and put extra strawberries and chocolate on top. YUMMY!!
13. Spend time with your siblings - isnt it funny how the stories of growing up always make you laugh? Me and my sister do it all the time!