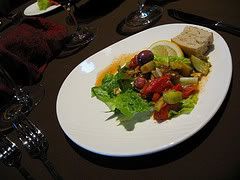 Appetizer
What is your favorite type of art?
I like the black and white chalk drawings...I dont know what the name of it is but I love the details. I have a chalk drawing of Marilyn Monroe and James Deans on a Harley that I adore.
Soup
When was the last time you got a free lunch (or breakfast or dinner)? Who paid for it?
When my son in the military came home for leave in July, my Mom and her BF took us to dinner for his birthday.
Salad
On a scale of 1-10 with 10 being highest, how emotional are you?
11....what can I say, Im a scorpio.
Main Course
Approximately how long do you spend each day responding to emails?
too much...all day long at work and then when I come home I check a few times.
Dessert
To what temperature do you usually set your home's thermostat?
Right now my house has been staying a nice 70 degrees because its cool outside. That has nothing to do with the thermostat and everything to do with opening the house up.