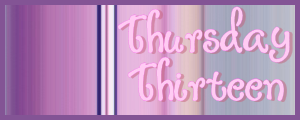 Thirteen Things I wanted to be when I grew up.

1. Dancer - Heck I still love to dance.

2. Nurse - Well, Im in the medical field and I may still fulfill this one.

3. Mother - Im blessed to be a mother of two beautiful boys.

4. Singer - OK...this one takes a little talent.

5. Teacher - Then I realized I would need the patience of a saint...not for me.

6. Wife - Been there, done that twice.

7. Cashier - Did this one as a teen. I dont know what the big deal was.

8. Vampire Slayer - This would be fun if there actually were vampires!

9. World Traveler - Maybe some day.

10. Lifeguard - I was on the swim team in school...thats the closest I got.

11. Ballerina - I weigh more than 90 pounds.

12. Waitress - I have no idea why I wanted to do this either. This is a tough job.

13. Reporter - I always wanted to interview people with a microphone and feel important.