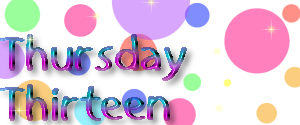 13 things that I loved about my birthday

1. My new IPOD that my DBF Michael got me.
2. Having sex.
3. The gift certificate my Mom got me.
4. Having the people I love sing Happy Birthday to me.
5. Eggs Laguna for Sunday brunch.
6. Knowing how many people love me.
7. 2 birthday cakes that were yellow with chocolate frosting.
8. Tacos
9. Getting birthday wishes from all of my blogger friends.
10. Knowing that Thanksgiving is only 3 weeks away and that means 4 days off.
11. That my mother got to share it with me and is in complete remission from her cancer.
12. Getting a massage.
13. My new outfit that fits perfect, how does my Mom do it without knowing the size??