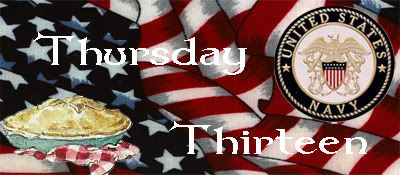 13 things I am giving thanks for this year

1. My children are alive and healthy.
2. My mother is in full remission from her cancer.
3. My DBF Michael, who takes good care of me.
4. Our wonderful soldiers over in Iraq.
5. I have a roof over my head.
6. There is food in the fridge and in the cupboard.
7. My Dad is here one more year to celebrate the holidays.
8. My loving family and friends that are always there for me.
9. My job.
10.That I live in the US and not someplace where I live with danger every day.
11.Celebrating Thanksgiving 3 times instead of 1…woohoo, I love Turkey.
12.My oldest is coming home for Christmas. He is in the military.
13.My blogger friends all over the world.