Porcupine Meatballs
This recipe only requires a few ingredients and is easy to prepare.
1 package (6.8 ounces) beef-flavored rice mix
1 egg, beaten
1 pound ground beef
2-1/2 cups boiling water
Set contents of rice seasoning packet aside. In a bowl, combine the rice and beaten egg. Add beef and mix well. Shape into 1 inch balls. In a large skillet over medium heat, brown the meatballs on all sides. Meanwhile, in a small bowl combine the seasoning packet and boiling water. Add to skillet; cover and simmer for 30 minutes or until the rice is tender. About 8 servings for around $4 for the entire recipe or 50 cents a serving.
Cheesy Pull Apart Biscuits
2 cans of can biscuits (about 60 cents)
handful of shredded cheddar (about 50 cents)
half cup melted butter (75 cents)
desired amount of garlic powder or garlic salt
Cut each biscuit into four pieces, in half and half again. Mix butter and garlic. Put quartered biscuits into baggie. Pour in garlic butter mixture. Shake well try to coat all. Put half into loaf pan cover with cheese. Put in other half and add more cheese.
Bake at 350 till done in the middle. Slice like homemade bread really tasty with spaghetti.
Tortilla Pizza
1 package of flour tortilla any size you want
1 can pizza sauce or spaghetti sauce (will only use about 1/2 of pizza or
1/3 of spaghetti)
1 8oz pkg mozzarella cheese
Whatever toppings you would like we use mushrooms and pepperoni
Top flour tortilla with sauce, cheese and toppings and bake at 450 for about
5-8 minutes or until cheese is melted. Very cheap and kid friendly.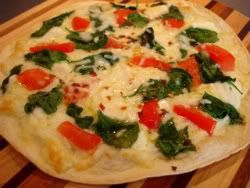 Simple Goulash
1 pound ground meat
4 cups cooked rice (approx. 2 cups uncooked)
1 can tomato soup
1 can cream of mushroom soup
4 slices of American cheese
In large skillet brown ground meat with salt and pepper to taste. Drain fat. Turn heat to med./low. Add cooked rice and both soups. Mix well and then smooth out in skillet. Top with slices of cheese and heat until cheese starts to slightly bubble.