Video game rockers enhance your gaming, video and music experience with audio blasts from interior speakers issuing waves of audio vibrations through your body. It's easy to connect your gaming, video, MP3 or DVD/CD device to one of these stylish chairs. I can see my son Brad using this thing!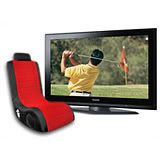 Men love beer. Some even have a special affinity for beer kegs. But after graduating college (or not graduating, as it were), you'll need to ditch the old college paraphernalia and upgrade to more sophisticated tastes. ...Which is why the stylish mini beer keg dispenser was created. Man, will my Dad love this!!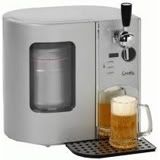 Say goodbye to the wasted time and unnecessary complexity of multiple remotes. Control your HDTV, adjust aspect ratios, or change sound modes with the brilliant 3.5" color touch screen on the Logitech Harmony 1000 advanced universal remote. Any man would love this!!