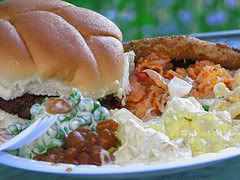 Appetizer
Say there's a book written about your life. Who would you want to narrate the audio version?
Sam Elliott of course...he has a sexy voice.
Soup
Take the letters from your favorite kind of nut and write a sentence. (Example: Perhaps every avenue needs understanding today.)
Caring and sharing heed endless wonders...
Salad
If you could go back in time and spend one week in another decade, which decade would you choose?
The 70's were very cool...I was young but Id like to be groovy again at this age.
Main Course
Name a song that brings back memories for you.
There are so many songs that bring back memories, its hard to chose one. I think "We've only just begun" but the Carpenters is the one that comes to mind first.
Dessert
Do you prefer to wash your hands in cold water or warm water?
I work in a hospital.....warm and warmer...You have to KILL those germs!